PEOPLE DRAWING PEOPLE
Exhibition: 28–30 November 2016 at the Nicholas Building
'People Drawing People' is going to be a fast and furious exhibition of works by our Life Drawing group. As part of this free and open-entry exhibition, we invite each and everyone of you to submit a drawing of someone in the class (but not the life model).
You may choose to draw a person in secret or ask for permission. If you're sneaky, you might ask for permission then draw the person in secret.
The exhibition will be a competition. From the 28–30 November, you can view the exhibition and cast your vote. We have some excellent prizes to giveaway as part of the people's choice awards night held on Wednesday 30 November. The lucky winners will be announced on the night at 9pm.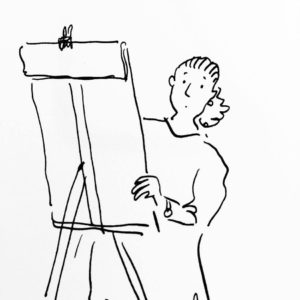 Image: Jeffrey Phillips, Untitled, 2016, Ink on paper, image courtesy the artist
SUBMISSIONS: CLOSED
Please read on for exhibition requirements:
1) You must draw the person whilst attending one of our classes. Please do not take the drawing home and spend hours working on it. This is meant to be spontaneous and fun, so no cheating!
2) You can use any drawing materials or paper that pleases you. This might range from a post-it note, your grandmother's hanky, a sheet of butchers paper, or something fancy and archival.
3) You will need to submit the work before 9.15pm on Wednesday 23rd November.
4) If you want your work returned to you, you must provide a self-addressed stamp and envelope or mailing tube upon submission or you may collect the work in person at 9:30pm on 30 November.